by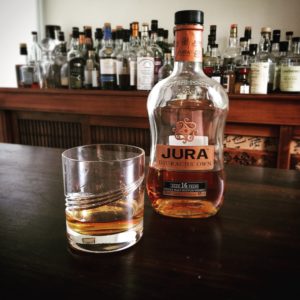 Isle of Jura Diurachs' Own 16 Year Old Single Malt. Isle of Jura, Scotland. ABV: 40%. Tasted at home, $120 (bottle).
Colour: Rich copper.
Nose: Burnt toffee, savoury cereal notes too.
Palate: There's some dried fruit here, think dried apricots. Not overly sweet, which is a nice point of difference to a lot of other sherry-influenced drams. At first it seems a bit thin flavour-wise, but with a few more swigs it gives off a few more juicy, jammy flavours. Sultanas and cigars, some tobacco heat too.
Finish: Oak, brown sugar and white pepper. It's quite a dry tannic finish, medium length.
Comments: Of its 16 years' maturation, the first 14 years was in first fill American white oak Bourbon casks, with the final two years spend in ex-Amoroso oloroso sherry casks. It's not overly sherry influenced, just a few dried fruit flavours balanced out by some oakiness.
At first I wasn't a huge fan of this one – it was ok, but not really one I gravitated to. Coming home from a long day at work there was always some other more exciting bottle in the collection to choose from. I remember it being a little underwhelming and dismissed it due to the low ABV of 40%. Perhaps some time in the bottle neglected at the front of the whisky shelf has mellowed this one into the quiet achiever. One that's easy to drink, has some interesting flavours without being overly complex or demanding too much of your attention. The kind of whisky you can pour at the end of a day when the last thing you feel like is using your brain to think about anything other than kicking your feet up and relaxing.