by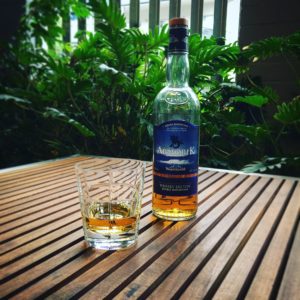 Armorik Double Maturation Breton Single Malt. Lannion, Brittany, France. ABV: 46%. Tasted at home, $135 (bottle).
Colour: Brassy gold.
Nose: Faint candied oranges.
Palate: Creamy burnt butter and herbal notes, salty floral tones too (which sounds like a contradiction, but its the best way to describe it). Smooth entry, medium bodied, dry mouthfeel.
Finish: Freshly squeezed orange juice, a salty tang and some new oak, with the woody tones the last to fade. Medium length.
Comments: This was my first Armorik, so I'm unfamiliar with the course style. This was a NAS release, matured in locally sourced virgin Breton oak casks for three to four years, before spending a second three to four year maturation term in Oloroso sherry casks. I like the fact that some of the casks are sourced with oak from the same region (Brittany) as where the whisky is produced, there can't be many distilleries that can boast that kind of terroir.
Overall, it's quite pleasant but it doesn't really push any boundaries. It's dry (presumably from the initial maturation in virgin Breton oak casks), so don't expect rich fruit cake flavours typical of other whiskies matured or finished in ex sherry casks. An interesting drop to have in the collection if you like having a range of unusual whiskies to share with friends who come to visit.