by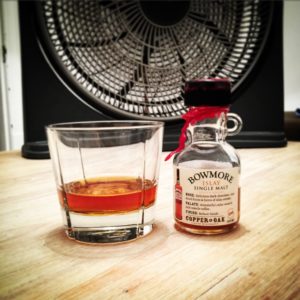 Bowmore Darkest 15 Year Old Single Malt. Islay, Scotland. ABV: 43%. Tasted at home, $23 (100mL bottle split).
As you can see, I'm clearly a big fan of Bowmore…
Colour: Rusty and dirrrrty.
Nose: Dried muscatels and old varnished timber furniture. Like walking into your grandparents' house. A bit more time in the glass and I'm getting Black Forest Cake – all rich chocolate and cherries.
Palate: It's a smooth entry, then sweet rich salted caramel flavours – like sucking on a hard toffee. Dark chocolate and cocoa notes too. Not very peaty at all, which is a nice surprise.
Finish: Juicy rich fruit cake, then drying out in the fade with some more cocoa.
Comments: It's been an absolute scorcher of a day here in Sydney today, eastern Australia has been going through a heatwave. Fan forced whisky is the only way tonight. It's important to keep well hydrated in such extreme weather conditions…
It's been so hot any drink in a glass has simply been evaporating. Particularly tasty drinks like this Bowmore Darkest. It's a no nonsense whisky, packing plenty of flavour and a slightly different take on the typical Bowmore style for the entry level expressions. It would've been interesting if it was a slightly higher ABV and a bit more syrupy, but on a hot night like tonight it's absolutely fine just as it is.