by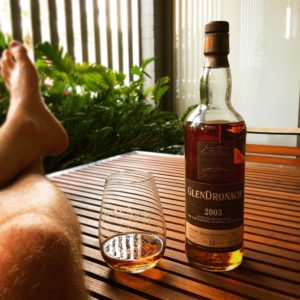 GlenDronach 2003 Single Cask (Oak Barrel Exclusive) 12 Year Old Single Malt (Cask No. 3492). Highlands, Scotland. ABV: 53.8%. Tasted at home, $179 (bottle).
What. A. Day. Is it just me or does anybody else like to reward themselves by splurging on a good bottle of whisky when you've gotten something over the line? For me, today was one of those days.
When I'm not reviewing copious amounts of whisky for Whisky a Day, in my day job I lead a team of human factors consultants. Today was the delivery of a huge report for a client, the culmination of the last 7 months' work. Suffice to say, putting the feet up and celebrating with a full-flavoured cask strength dram was definitely the best way to unwind!
Colour: Molten copper.
Nose: Like shoving your nose into a big handful of sultanas or muscatels. Big juicy dried fruit aromas with some dusty dark chocolate cocoa notes too. The 53.8% ABV gives you a slight tug of the old nostril hairs to give you a nudge to prepare your tastebuds for what's to come.
Palate: That sugary/salty tang of blackcurrant pastilles. Salted caramel and vanilla – it really takes me back to my childhood. No, I wasn't smashing whisky when I was in primary school, it just instantly reminded me of chewing on some jersey caramel lollies at my grandparents' place.
Finish: Slightly salty, oaky tang with some gentle heat that lingers at the front of the mouth.
Comments: Hand selected for The Oak Barrel, my go-to independent bottle shop in Sydney. 12 years in an Oloroso sherry puncheon. What a dram it's got everything. And do I feel relaxed? It's so good I've now had three drams and I'm feeling very unwound! Highly recommended.