by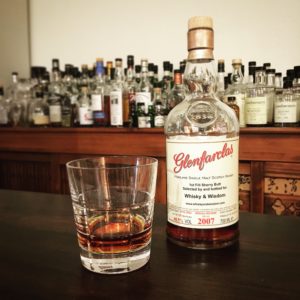 Glenfarclas Whisky & Wisdom 9 Year Old Single Cask. Speyside, Scotland. ABV: 60.5%. Tasted at home, $229 (bottle).
Now this is a special drop. Fellow Sydneysider, Andrew Derbidge – Director & Cellarmaster of The Scotch Malt Whisky Society in Australia, and also the man behind one of my favourite whisky blogs, "Whisky & Wisdom" – personally selected this cask for a special Whisky & Wisdom bottling. The man has some damn fine tastebuds, this one is a cracker!
Colour: Boiling caramel.
Nose: Dried cranberries, sultanas and a freshly opened block of dark chocolate. Leather-bound books and rich mahogany…must resist the urge to quote Ron Burgundy…
Palate: The intensity of the flavours is amazing; it's rich without being overpowering. Strawberries and raspberries – rich and syrupy with a bit of tartness. Rich, creamy toffee with chocolate biscuits. The alcohol isn't too much either, more a gentle wave of heat that builds along with the berry and some toasted oak notes.
Finish: A gentle warmth that slowly fades, drying woody notes too. Front of the tongue gets most of the joy.
Comments: This really is the kind of whisky you pour yourself when you get home after a tough day, slump into a comfy leather chair and put on some music to drown out the world. Don't even think of talking to me, this whisky is taking me places. It's so well balanced, smoother than it's 60.7% ABV would suggest, and eminently drinkable. Bucketloads of flavour and subtle power, it really is one of those whiskies that has the ability to make the mind drift off and unwind. Which also made it a challenge to review, as I was enjoying it so much and just wanted to drift away with each sip.
I won't hesitate to say this is one of my top 10 whiskies I've ever had, hands down.
Andrew selected this cask at the Glenfarclas Distillery. It must have been a tough job to taste all those contenders, but he eventually settled upon a 1st-fill European oak sherry butt that was distilled in 2007 and bottled as a 9 year old cask strength single malt in January 2016. If you want to hear more about how Andrew decided on this particular cask, check out the Whisky & Wisdom page.