by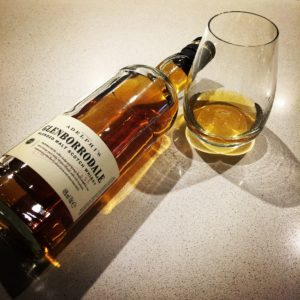 Adelphi Glenborrodale 8 Year Old Blended Malt Scotch Whisky (Batch 1). Scotland. ABV: 46%. Tasted at home, $152 (bottle).
A blended malt with an age statement…something a little different here.
Colour: It's like licking a toffee with your eyeballs.
Nose: Rich blackcurrant jellies, freshly baked Anzac biscuits, liquorice, and an unexpected hint of earthy peat.
Palate: Blackcurrants again, but this time it's blackcurrant jam on freshly toasted bread. Chocolate tart, the kind with the crumbly chocolate biscuit on the outside and then chocolate ganache on the inside. Maybe topped with some honeycomb and raspberries.
Finish: Caramel, chewy toffees, and a cool smokey finish…like some smoked biltong. Medium length.
Comments: For this batch of 1,226 bottles, Adelphi have put together a vatting in an ex sherry butt containing plenty of 8-year-old first-fill sherry from Glenrothes.  The remaining single malts that make up this vatting are reportedly 14 years old, with their distilleries of origin being from all around Scotland.
The Adelphi Glenborrodale has a lot more character than your typical blend, which is not surprising given it's a blended malt (a blend of single malts) rather than your typical blended whisky containing a blend of both single malt and single grain whisky (which tend to be slightly more mild in both flavour and mouthfeel). Sweeping generalisations, but worth mentioning for those readers who haven't come across a blended malt before.
It's an interesting drop, one that makes you really sit up and try to work out what the hell those familiar flavours are that you're tasting and smelling. Enjoyable and a little different to many typical run of the mill whiskies. Certainly an interesting addition to the bar at Whisky a Day HQ.