by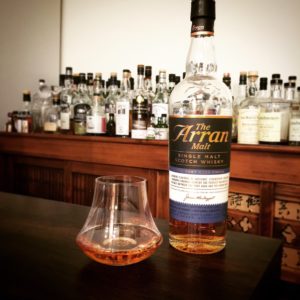 The Arran Malt Port Cask Finish Single Malt. Isle of Arran, Scotland. ABV: 50%. Tasted at home, $99 (bottle).
Colour: Rose tinted copper. An awesome thing to admire, but we're not here to stare at the damn whisky all night are we?
Nose: Orange jelly sweets. A few sweet woody notes…a hint of camphor, freshly varnished timber furniture.
Palate: Cherry chocolate, dark chocolate…maybe the Easter Bunny wasn't too kind to me and I'm just craving more chocolate. Caramelised figs and soft oaky notes.
Finish: Some subtle fruity sweetness in the fade – think berry coulis; strawberries and cream.
Comments: If I'd done a blind tasting, I wouldn't have picked it for an Arran malt. The pork cask has imbued some softer, creamy chocolate flavours, which contrast to the Arran house style which has some more tropical fruity and floral notes. These manifest themselves as the caramelised figs and sweeter berry notes on the palate and in the finish.
Fantastically drinkable, quite different to what we've come to expect from Arran but this is certainly a welcome variation. Cracking value too, very tempting to pick up another bottle!