by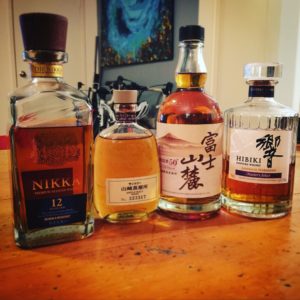 Whiskies #480-483: Japanese Whisky Showdown.
I love it when friends travel overseas and bring back a bucketload of booze. My good friends Adam and Maria recently trekked to Japan and kindly shared this haul when I visited them on the weekend. Given it's often a challenge to get Adam to shout his mates a drink at the best of times, this was an offer I wasn't going to pass up!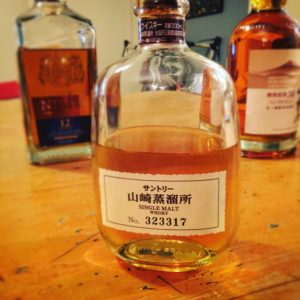 Whisky #480: Suntory Yamazaki Distillery Single Malt Whisky No. 323317. Japan. ABV: 40%.
Colour: Pale straw, light amber.
Nose: Oaky, cane wicker. Sharp, not sweet or creamy.
Palate: Initial impression is that it's much sweeter than the nose suggests. A very thin mouthfeel on the palate. Sweet and lemony, the mid-palate gets the joy – like a bullet shooting down the centre of your tongue.
Finish: Very short and crisp; not mouth coating. A slight citrus tang as it fades.
Comments: Maria thought it was an entry level whisky, which given they've just come back from tasting some amazing whiskies at the Yamazaki distillery and at bars all over Japan (e.g. Hibiki 30 Year Old), it's hardly a surprise that this one doesn't quite excite. For Adam, after a few sips it was growing on him, "I could sit here and have half a dozen of them."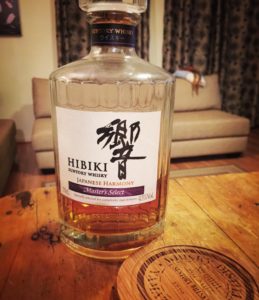 Whisky #481: Suntory Hibiki Japanese Harmony Master's Select Blended Japanese Whisky. Japan. ABV: 43%.
Colour: Pale caramel.
Nose: Hokey pokey ice cream.
Palate: Earthy caramel. Buttery toffee; a rich caramel that keeps building in intensity.
Finish: Honey on toast.
Comments: For me, this was a refreshing step up in flavour and sweetness. Nothing too outrageous going on here, just a dangerously drinkable pretty straightforward whisky with plenty of flavour but not much punch.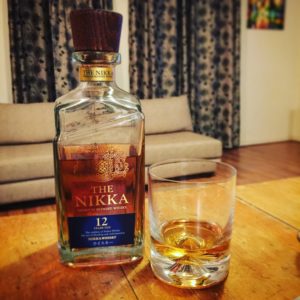 Whisky #482: The Nikka 12 Year Old Blended Whisky. Japan. ABV: 43%.
Colour: Bright gold.
Nose: Roasted figs and panna cotta.
Palate: Sesame seed honey crisps. A bigger mouthfeel than the Hibiki. Adam comments that "it's a bit sweeter, feels more solid."
Finish: Slightly leathery, salty notes that emerge as the sweetness fades. Delicious, great balance too. Medium to long finish, blackcurrant lolly flavours – like a blackcurrant Soothers' lozenge but without the menthol.
Comments: This was a step up again, a little more nuanced than the Hibiki. There's a lot more going on here flavour-wise for you to sit back and enjoy.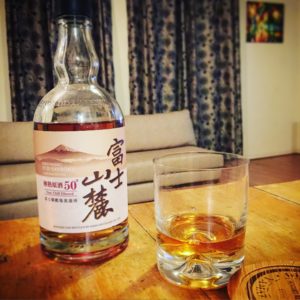 Whisky #483: Kirin Fuji-Sanroku Tarujuku 50 Blended Japanese Whisky. Japan. ABV: 50%.
Colour: Dark amber; "an amber mist" according to Adam. Maybe his eyesight is just a bit foggy after the fourth whisky…
Nose: Adam picks up some vanilla cheesecake aromas – now he's starting to get the hang of this whisky tasting caper! Well done mate.  For me, it's like opening a packet of Allen's strawberries & cream lollies.
Palate: Caramel popcorn. Rich, oaty sweet notes – think brown sugar dissolved on a hot bowl of porridge.
Finish: A gentle, rich brown sugary fade. Chocolate biscuits as it fades.
Comments: For some, the prospect of a 50% ABV whisky can be a bit daunting – will it burn my throat? Will it be like accidentally having too much wasabi? Will I be able to taste anything? In the case of this drop, the Kirin Fuji-Sanroku Tarujuku 50 does none of these. It's rich, syrupy and luscious – and definitely the standout whisky of this Japanese whisky showdown.