by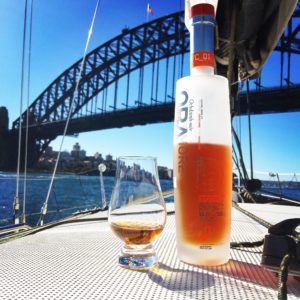 Bruichladdich Octomore OBA Concept OBA/C_0.1. Islay, Scotland. ABV: 59.7%. Tasted on Sydney Harbour, $161 (500mL bottle).
I'm extremely fortunate to be able to go sailing with some of my best friends on one of the most beautiful harbours in the world most weeks. Sydney is a stunning place. But when you're up early on a Sunday morning and dustier than the Nullabor after the night before, sometimes you need more than a little sea breeze to blow away the cobwebs.
I explained to my crew that I'd brought this amazing whisky to try after the race. "Show us!" they said. "Let us smell!" they said. "Have a cheeky pre-race whisky!" they said. Actually they said none of these things, so I poured one anyway for medicinal purposes.
Colour: Burnt orange glaze.
Nose: Sweet smoke, fresh liquorice and raspberry tarts. Pine needles and freshly sawn timber. Goes well with the saltiness of the gentle morning sea breeze. A slight warming sensation too as you breath in the smokiness – like putting your nose close to the hot coals of a campfire as it's dying down.
Palate: Fresh oak on the front of the palate; liquorice sorbet and a lemon citrus tang. Lot of salty, sweet smokiness – like taking a bite of a freshly cooked fillet of crispy skinned smoked salmon.
Finish: The warmth creeps up and slowly builds, like warm honey slowly dripping down the back of your tongue. A long, lingering salty finish with cigar notes, nori and tea leaves.
Comments: If you're going to have a 10am whisky when you're out on the water, this is the one. Fresh, tangy and boatloads of flavour, it's a fantastic balance of salty, peaty goodness. More peat than out and out smoke, by the sea really is the perfect place to enjoy this one. Highly recommended.