by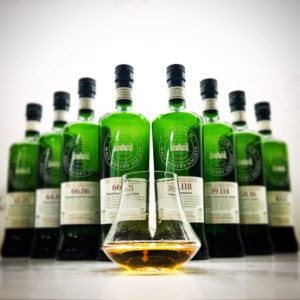 SMWS 76.126 Racy Lady Wearing Leather. 28 year old single cask single malt from Mortlach Distillery. Speyside, Scotland. ABV: 57%.
A special whisky for a special milestone. 500 whiskies, damn! This dram was kindly provided courtesy of the Scotch Malt Whisky Society's (SMWS) Australian Brand Ambassador, Matt Bailey, to celebrate reaching Whisky #500. Long time readers will know that I've been an active member and great fan of SMWS bottlings for a number of years now, so I thought why not stretch this Whisky #500 party out and have a whole week of SMWS whiskies!
So strap yourself in for the Racy Lady Wearing Leather, because she's the first of 7 SMWS whiskies in 7 days…
Colour: Lustrous gold.
Nose: Earthy notes, dusty bookshelves and freshly baked chocolate brownies.
Palate: Imagine you're eating a creme brûlée with a wooden spoon…sweet, creamy, a touch of burnt caramel, and some soft oaky notes. Savoury notes too when you have a few more sips; quince paste, caramelised balsamic onions cooked on the BBQ. Definitely a lot more subtle than you might expect from a 57% ABV whisky, both in terms of flavour and mouthfeel.
Finish: It's quite a delicate and textual finish…the whisky almost caresses your tongue as it escapes down the back of your mouth. Almost like the racy lady is teasing you with a silk scarf that she draws gently across your face as she slinks off to a dark room, enticing you for more.
Comments: There's a certain delicious irony in a seductive title like "Racy Lady Wearing Leather" coming from the Society's "Old and Dignified" flavour profile! Though old and dignified she is. I enjoyed this one with Miles Davis' classic "Kind of Blue" in the background, a fitting soundtrack for such a glorious whisky.
An outstanding whisky and certainly one worthy of the #500 milestone. Here's to the next 500 whiskies, cheers!