by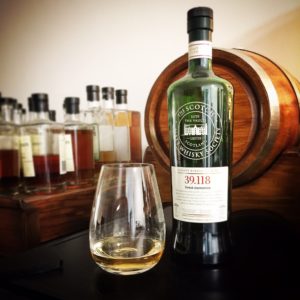 SMWS 39.118 Sweet Memories. 8 year old single cask single malt from Linkwood Distillery. Speyside, Scotland. ABV: 59.5%. Tasted at home, $140 (bottle).
Let's continue the celebrations for reaching 500 whiskies and delve into our second Scotch Malt Whisky Society (SMWS) bottling of the week…7 days, 7 SMWS whiskies!
Colour: Pale straw.
Nose: Tart lemon curd and freshly baked biscuits…so it's basically a lemon tart. Pine cones and snapped lantana branches. A slight nose prickle right at the end as you really take it all in.
Palate: A richness that tingles on the front of the palate. Lemon Fruit Tingle lollies that you've left just fizzing on the tip of your tongue. Some creamy lemon meringue, spicy white pepper and a hint of vanilla.
Finish: A drying sensation, the whisky seems to evaporate off the front of your tongue. Fizzy creaming soda, lemon sherbet and a touch of liquorice, yet quite salty in the fade.
Comments: Fresh and zesty, this one really dances on the tongue and has a party all on its own. Bugger anything you've had to eat or drink before, for me the name Sweet Memories is a bit misleading – it's not a dessert whisky, it's the kind of whisky that interrupts the whole damn dinner party and starts dancing on the table to grab your attention.