by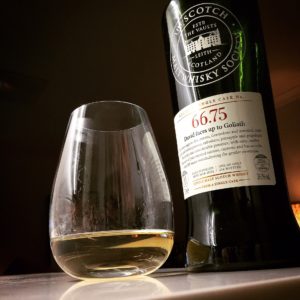 SMWS 66.75 David Faces Up to Goliath. 11 year old single cask single malt from Ardmore Distillery. Speyside, Scotland. ABV: 59.3%. Tasted at home, $185 (bottle).
Colour: Faded gold.
Nose: Hessian sacks, fresh hay. Like walking into a horse stable. Sticks of liquorice too.
Palate: Like gnawing on BBQ lamb cutlets…meaty, smokey and with a hint of charcoal.
Finish: Smoked paprika and salty beef jerky, with a long fade.
Comments: One of the things I love about Scotch Malt Whisky Society (SMWS) whiskies is their quirky names and tasting notes on the bottle. The SMWS tasting committee absolutely nail it sometimes, and other times you're left wondering if this might have been the tenth whisky they'd tasted that night as the descriptions get a little wilder.
Regardless of whether you pick up some, all or none of the official descriptors that appear on the label, it's always an intriguing prelude to the inevitably amazing (and undoubtedly unique) whisky you're about to taste.
I've yet to have a SMWS whisky I didn't enjoy – some have been incredible, others have been merely fantastic. This one is no exception.