by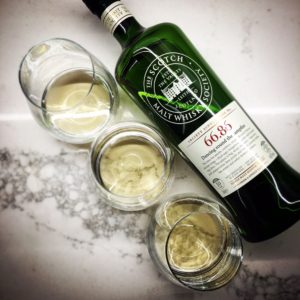 SMWS 66.86 Dancing Round the Campfire. Speyside, Scotland. 10 year old single cask single malt from Ardmore Distillery. Speyside, Scotland. ABV: 60.7%. Tasted at home, $159 (bottle).
Let's continue the Scotch Malt Whisky Society (SMWS) week to celebrate Whisky a Day reaching whisky #500 by exploring another cask strength single cask whisky from Ardmore Distillery. We had a look at another SMWS Ardmore yesterday – the SMWS 66.75 David Faces Up to Goliath – so let's see how this one compares.
Colour: Pale rose gold.
Nose: A real nose prickle. Like someone has given your nose hairs a decent tug. Pine needles, nori sheets and heavy smoke, a freshly opened packet of liquorice. But dominated by peat.
Palate: Explosive. Leather and woody notes melded together. Mouth coating smokiness, a slight buttery hint…which is only overpowered by the love in the room as I share this whisky with my two very good mates who I've just moved into a new apartment with & whom enjoy a good whisky.
Finish: Extremely long, salty sea and some faint salted caramel notes as the sweet smokiness subsides.
Comments: Not a whisky for the faint hearted, this is definitely more up-front and in your face than the SMWS 66.75 David Faces Up to Goliath Ardmore reviewed yesterday. If you're introducing friends to the SMWS or to peaty whiskies, this is probably not the one, it could be a bit full on. But if you're confident they can handle a full-throttle peat monster with a difference…let them loose on this beauty.