by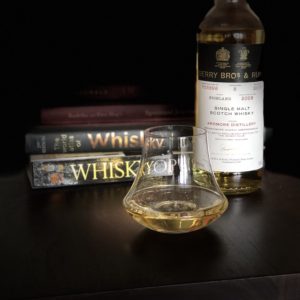 Berry Bros. & Rudd 8 Year Old Ardmore 2008 Single Malt Small Batch for The Whisky Club. Highlands, Scotland. ABV: 46.0%. Tasted at home, $135 (bottle).
Colour: Pale sandstone.
Nose: Blueberry tarts, fresh cream and sweet juicy lemon jellies. A soft, cool smoke hints at what's to come.
Palate: Orange marmalade on hot buttered toast. Some creme brûlée that's had a bit too long under the blow torch – it's sweet and creamy, but there's also some burnt sugar and smoke coming through too. It's a light touch on the palate.
Finish: It's like roasted marshmallows on a camp fire – smokey, creamy and a warm fuzzy feeling to finish. Medium length.
Comments: A small batch release comprising just 7 barrels, this 8 Year Old Ardmore 2008 was bottled for The Whisky Club in Australia. It has a smokey rather than botanical peat influence, one that starts soft and gradually builds as you make your way through each sip.
I reckon it's the perfect Friday night whisky – the kind when you're exhausted after a week at work, you've come home and put on some music before you crash on the couch with that first whisky in your hand.
A lighter style of whisky to start the night, but with enough variety of flavours to steer you in a number of directions for your next dram – do you want to go down the path of a Speyside fruit-driven whisky next? Or maybe the peat has tickled you in funny places and an Islay whisky with more oomph is what's up next?
Either way, it's a great appetiser for a quiet night of whisky to help you unwind from the working week.